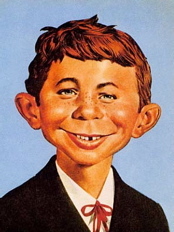 Welcome To The Wiki!

Check out our new home! We have a slider, and we have sections, and we have direct news!
MAD News
MAD Numbers
Characters
News
I've been working on making the main page a more desirable place. Hope you like it!
Sorry I haven't been active lately. I couldn't find MAD #507 ANYWHERE! It's like every store has the jaundiced eye. Anyways, I finally found it, and I'm going to take a look at it and give everyone the info on what's going on. Uh, I have a subscription going to to the wrong address. I need to get that fixed, too!
Help Wanted!
I need at least two admins that are dedicated to helping me and that won't screw with the home page. Use my talk page and give me how dedicated you would be if you were an admin. (You will be picked if 1. You have a really good response 2. If your letter on my talk page is enough). --17morgm 03:20, January 30, 2011 (UTC)
Sections: